Bathroom Remodeling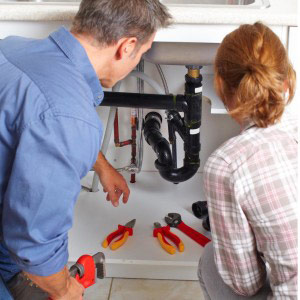 Jim Trombly Plumbing, Heating, & Cooling's expert southern NH remodeling contractors are ready to go the extra mile for you. Our remodel experts will provide a complete range of remodeling and design services from beginning to end.
With one-stop service, our NH remodeling contractors will help with planning, construction and project management. And we'll get the job done on time and on budget to minimize the interruption to your daily life.
Call today to get started on your NH bathroom remodel. We'll meet with you to discuss your project and answer all your questions.
Showers
Shower window requests are not uncommon, but many contractors argue against them on grounds that they will result in damaging water leaks behind the wall. In most cases they are right. There is, however, a type of window that is relatively easy to install and can be made watertight. This window looks like opaque glass blocks but in fact is made from acrylic blocks, about 70% lighter than a comparable amount of glass.
The block window, set in a vinyl frame, can be inserted into the rough opening, then caulked and trimmed flush with the wall so water will not collect or penetrate. Some brands are operable, and others are not. One variation would be to have a small awning window just above the block window that could be opened for ventilation.
Skylights
For bathrooms, skylights offer several great benefits:
A skylight will flood a room with more light than a comparably sized window.
If privacy is an issue and there is no view, a skylight is a welcome alternative.
Operable skylights provide natural ventilation, allow moisture to escape and prolong the room's life.
They can be as energy efficient as windows, with double panes and Low-E glazing.
Some versions rotate so the exterior side can be cleaned from inside.
To provide sufficient light without overheating from the summer sun, the glass area of a skylight should be about 5% of the room's floor area. For even light and less glare all day, position skylights on the north or east side of sloped roofs. If you want to spread the light more widely in a room, ask your contractor about creating flared light wells.
Saunas/Steam Baths
Sauna Installation and Selection Tips
Saunas and steamrooms are increasingly being incorporated into everyday home life. One common variation on this trend is the steamshower, which can be installed new or added to an existing shower.
Steamshowers
A steamshower is energy efficient and conveniently adapts to standard shower stalls. To function, it requires a steam generator that is normally mounted within 20 feet or less of the shower to minimize heat loss through the pipe. The temperature control unit is mounted on the wall next to the shower door. Select a generator large enough to produce a comfortable steamroom temperature within 15 minutes or less.
If you are thinking of adding a steam generator to create a steamshower, here are some planning elements to consider:
The walls surrounding the steamshower must have a waterproof substrate of cement board and water-resistant drywall.
The actual shower wall must be able to withstand high heat and excessive moisture. Before selecting a material for a custom shower wall, check with the manufacturer that it will withstand steam heat without decay. For instance, the manufacturer of Corian does not recommend its use in a steamshower.
The door must completely encase the opening. If converting a shower stall to a steamroom, a matching panel of glass or plastic can be located above the door.
A slanted ceiling is desirable because condensation will run down it to the wall rather than dripping on the bather.
Add a comfortable bench in the shower, located as far as possible from the steam outlet to avoid accidental scalding.
Saunas
Saunas use dry heat rather than steam and require more space, but would easily fit in a large and luxurious master bath. A common size is about 5 by 7 feet. Saunas can also be located in other parts of the house, such as conveniently close to a swimming pool, a lake, or snow bank to jump into when you finish.
Saunas are traditionally constructed from wood, which not only insulates well but also is not hot to the touch. The sauna also needs a minimum of two wall-attached benches at different heights, the lower one being cooler than the upper. To prevent heated air rising into unusable space, a 7-foot ceiling is the norm.
Ventilation
Exhaust fans are crucial to proper ventilation in a bathroom. Their particular value is in drawing moist, warm air out of the bathroom before it causes damage. Problems associated with poor ventilation include mold, rust, swelling doors, peeling paint and loose wallpaper. Even with a window that opens, bathrooms need a ventilation system.
Standard bathroom ventilation calls for fans to move 50 cubic feet of air per minute (cfm) at a minimum. Check the fan's cfm rating before ordering. What size you select will vary widely, depending on the size of the bathroom and whether it has a large shower or whirlpool bathtub, both of which create lots of humidity. Such bathrooms may require up to 400-cfm rated fans.
You may also need a larger fan depending on the length of the duct run from the bathroom to the home exterior — never into the attic or crawl space. The duct diameter and material also affects air movement through friction. For any runs over a few feet, use plastic pipe or sheet metal ducts rather than flexible plastic pipe, which restricts airflow and traps moisture.
Exhaust fan installation instructions usually include specifications on the maximum length of the duct run, the duct diameter and material to be used.